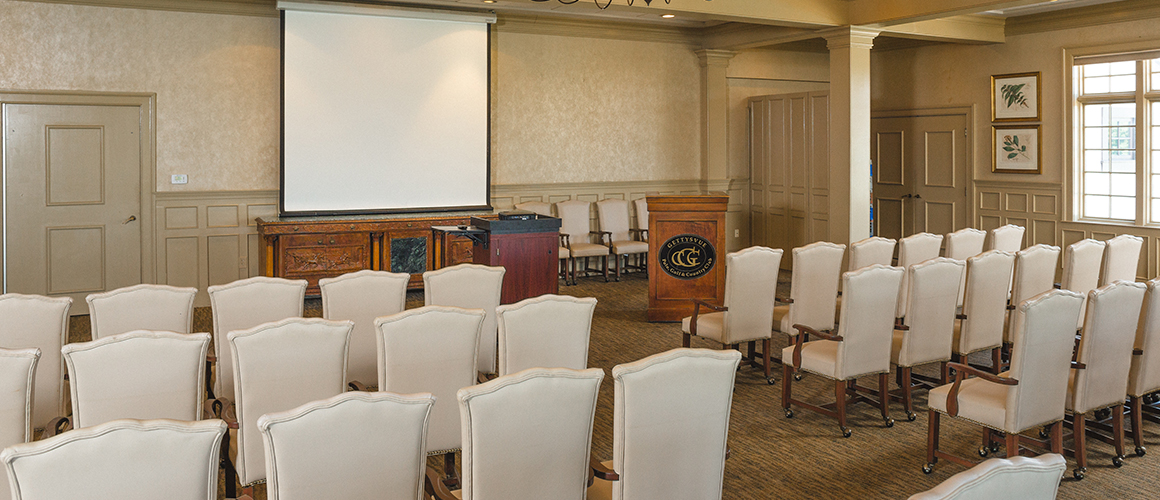 by Allison Doyle, CCM
Choosing a meeting venue could be the difference between making a strong first impression and closing an important deal. There are many options to consider when choosing the perfect meeting venue – but don't fret, here are 10 simple tips we trust to help you choose a venue that will leave your guests impressed.
---
1. Choose an accessible venue with easy parking
Consider how easy it will be for your clients or guests to arrive at the venue. Does the venue has ample parking or valet? If your guests are coming in from out of town, are there nearby hotels, and how far is it from your office?
2. Choose a venue with an on-site, professional staff
Good service can often be underappreciated because everything runs smoothly, but you don't want service to be an issue, especially if you're brokering a major deal. Make sure all on-site staff are professional, experienced, and friendly. This includes security, the concierge, wait staff, and coordinator. Working with a point of contact at the venue who is familiar with the space and has planned events before can save you stress and headaches.
3. Make sure your venue has the tech you need
Does your venue offer Wi-Fi? Will you need a projector or screen? Do you need working microphones or a sound system? Where are the outlets located in the room? Make sure you consider all your technical requirements beforehand, and do a walkthrough of the venue to think through logistics.
4. Choose an affordable, flexible meeting venue
Whatever your budget, make sure your meeting venue doesn't cost too much. Consider all the amenities, the atmosphere, and the add-ons. A country club or golf course meeting venue can often be a perfect affordable option for meetings of all sizes and types.
5. Make sure your venue is fully customizable
Your meeting might need a more professional atmosphere, or maybe you want to make it more fun and off-the-cuff. Whatever tone you pick for your corporate event, make sure your venue can match that atmosphere successfully. Make a list of all your requirements prior to your walkthrough. (Ex. Stage for presenting; space for caterer to prepare, etc.)
6. Choose a venue with full catering options
Is your venue's Food & Beverage up to par? Does the venue provide food or drink packages, or will you need to hire an outside vendor? Look into pricing options and specific food options that accommodate special diets or palates.
7. Pick a venue with flexible indoor & outdoor space
Consider whether your venue offers both indoor and outdoor space. Will you just be hosting a meeting, or will you be offering a reception before or after the event, or perhaps an afternoon break? Hosting your meeting at a golf course can be the perfect way to blend business with pleasure, as you can play a quick 9 holes or head out to the driving range for a breath of fresh air.
8. Make sure the venue allows for easy scheduling
Make sure that the date of your meeting corresponds with venue availability, and remember to reserve your space well in advance so that you're not stuck scrambling for options. You might want to check to see how flexible the venue is for last-minute date changes, just in case.
9. Choose a creative, out-of-the-box space
How will you define your meeting's success? If you want your guests or clients to come up with creative solutions or ideas, placing them in an inspiring environment might help generate unique ideas and connections. Consider hosting a meeting outdoors, or in a non- traditional, non-conference room. This has the added benefit of helping hold your attendees' attention as well.
10. Consider service and location
We all know first impressions are key, but so is convenience. For a multi-day meeting, look into nearby attractions, restaurants, and night life – and check into other rooms or activities that you might be able to host on-site. Not only will adding on some fun activities make your event more memorable, but if you provide your attendees with an overall pleasant experience, this will lead to better business relationships and a willingness to return to future meetings and conferences. 
---
We hope that these 10 simple tips will help you choose the perfect meeting venue for your next corporate event. If you need help, contact one of the expert meeting planners at CountryClubMeetings.com, or check out our other blogs on meeting planning and client relationships.